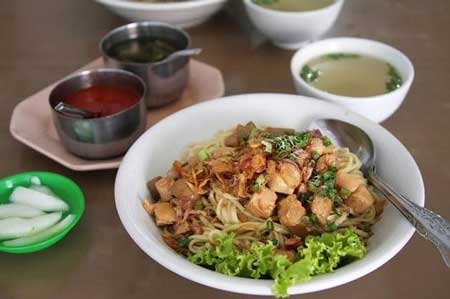 Apakah Anda benar-benar menyukai bir, anggur, atau jenis minuman lainnya? Atau apakah Anda benar-benar memiliki impian atau berencana menjadi ahli yang dapat memasangkan minuman dan makanan untuk pelanggan yang paling cerdas? Nah, jika demikian maka berkarir di bidang wine and beverages management ini bisa berperan vital dalam mewujudkan impian Anda. Faktanya, ini bisa menjadi bidang yang ideal di mana Anda bisa berkarier.
Saat ini ada banyak sekolah kuliner di Amerika Serikat yang menawarkan program khusus dalam manajemen anggur dan minuman. Fitur utama yang membuat program ini unik dan berbeda dari yang lain adalah program ini dirancang dan didukung oleh ahli anggur dan minuman terkemuka dari beberapa restoran dan hotel terbaik di industri. Program ini mendidik Anda tentang semua keterampilan utama yang biasanya dibutuhkan untuk mengejar karir yang bermanfaat dalam manajemen anggur dan minuman. Dan, yang terbaik dari semuanya, program ini menyediakan platform tempat Anda dapat memperluas pengetahuan Anda tentang:
Pemeliharaan Anggur dan Viniculture
Teknik mencicipi
Pengelolaan minuman untuk menu khusus
Lulus dari program ini dapat membuka berbagai macam pintu untuk Anda. Faktanya, setelah Anda menyelesaikan program Anda, Anda dapat memulai karir yang bermanfaat sebagai ahli anggur residen dalam pengaturan kerja yang berbeda seperti klub, perusahaan katering, restoran, agen minuman, jalur pelayaran, dan resor atau bahkan mungkin bekerja di industri pemasok minuman dan anggur. Selain itu, ada banyak pilihan lain di mana Anda dapat menjadikan karier Anda sebagai-
Wine / Beverage Sommelier: Bekerja sebagai sommelier anggur atau minuman, tanggung jawab Anda mungkin berkisar pada melayani di restoran, termasuk penyimpanan, dan rotasi gudang anggur. Dia bahkan mungkin perlu bekerja sama dengan koki eksekutif untuk menemukan anggur yang melengkapi menu tertentu. Namun, jika Anda bekerja di restoran mana pun, terkadang Anda mungkin perlu menyiapkan daftar anggur atau bahkan memberikan pelatihan kepada staf lain tentang anggur dan layanan anggur. Jika kita berbicara tentang gaji maka sebagai pemula, Anda dapat dengan mudah mendapatkan gaji yang layak sebagai $ 28.000, tetapi saat Anda mendapatkan pengalaman dan sertifikasi, Anda dapat menghasilkan antara $ 80.000 dan $ 160.000. Meskipun untuk menjadi Master Sommelier, Anda harus lulus serangkaian ujian dari Court of Master Sommeliers.
Manajer Restoran atau Minuman Hotel: Ini adalah bidang khusus lainnya yang menggabungkan kreativitas dapur bersama dengan bisnis menjalankan operasi anggur dan minuman. Sekarang, bekerja sebagai manajer minuman restoran atau hotel, keterampilan Anda mungkin lebih dari sekadar mengelola operasi minuman sehari-hari.Kuliner kota Malang