Effective Cleaning For A Sparkling Clean Office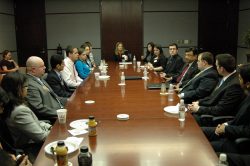 What used to be considered a domestic chore and low paying, low skilled job, facility maintenance has come far. Professional cleaning services now deliver a wide range of services that allow each business owner the ability to customize the right options to keep their office or commercial building sparkling clean.
Many different businesses including hospitals, factories, airports and even hotels employ services of a janitor or cleaning service to maintain their cleaning and maintenance needs which can include everything from cleaning carpets to maintaining the landscape. Your job is to run your business not become a maid. By hiring a professional cleaning company you can maximize your time to be spent directly on what you do best for your business. This is also important for employees as job satisfaction is increased by working in a clean office and allowing them to maximize their time for the specific roles they were hired for.
Vendors who specialize in each service sometimes do these services. But when choosing a vendor company verify their credentials and operations before hiring them. Every cleaning service says they do a good job. By getting references you can eliminate a later headache by choosing the right company from the start. Some companies also have videos online that demonstrate their ability to deliver a high quality job whether it is cleaning an office, waxing floors, cleaning carpets, and more. Being able to see the quality of work through videos is a great way to determine if the company is right for your business.
It's very important to verify a cleaning service. The reason is, the service will be working at your business and will have access to everything there including records, valuables, computers, etc. You can't follow the cleaning service around or watch every move. That's why choosing a service with a good record, good reputation and excellent management would be the right choice.
It's smart to not enlist the services to just one company. It's better to find more than one provider who specialize in each area that you need services for. There are also companies that specialize in being a one stop shop. Depending on the size of your needs dictates what type of company would serve you best.
When choosing the right vendor that's right for you make a list on what your expectations are. Getting references and meeting with the vendor's employees might make the selection easier.